Curriculum Intent
Steve Jobs "Everyone should learn how to code, it teaches you to think."
Our intent is to offer students a curriculum which prepares them for a future of technology. As a department we recognise technology as a pivotal part of human life, affecting all aspects of society. We strive to model how to use technology effectively within a daily context, along with supporting students' development in specialist skills necessaryin the ever-evolving digital world.
Our curriculum offers engaging yet challenging topics, which will not only develop our students understanding of technology but, how they think. We cover a wide range of topics from the hardware you hold in your hand, theprinciples of computer programming to the design and development of websites. The curriculum intertwines with other subjects including Mathematics, Physics and Design Technology; ensuring a holistic development of skills including creativity, logical thinking, and problem solving. Our curriculum has been designed to ensure students are taught the principle of problem solving and computation, which prepares them to solve problems that do not exist yet.We encourage the development of these skills through many enrichment opportunities, including lunch and afterschool Computing clubs, CyberGirls First Competition, Bebras competition, iDEA awards and internal gaming competitions. Our teaching equips students with the necessary skills for various career opportunities in Computer Science, IT and Media.
Our sequenced curriculum embeds an understanding of what makes up a computer system, uses of application software, development of algorithms and writing of textual programs;the building blocks of Computer Science and IT. Our curriculum encourages students to become responsible digital citizens; inclusive of the correct use of social media and the legislation which applies to Computer Science and IT. We have embedded the use of MS Teams as the normal way of working in lessons to ensure students are prepared for the use of technology in future careers.
We aim to provide a broad and balanced curriculum to suit the needs of each and every student. As teachers we want students to develop a love for the subject and understanding there are no limits to their understanding of how technology works; far deeper than the interfaces they use. Computer Science has become an ever-growing part of human life, affecting many aspects of a person's day, we at Maricourt recognise the importance of ensuring our students are experienced in an exciting and rapidly evolving subject.
Curriculum Journey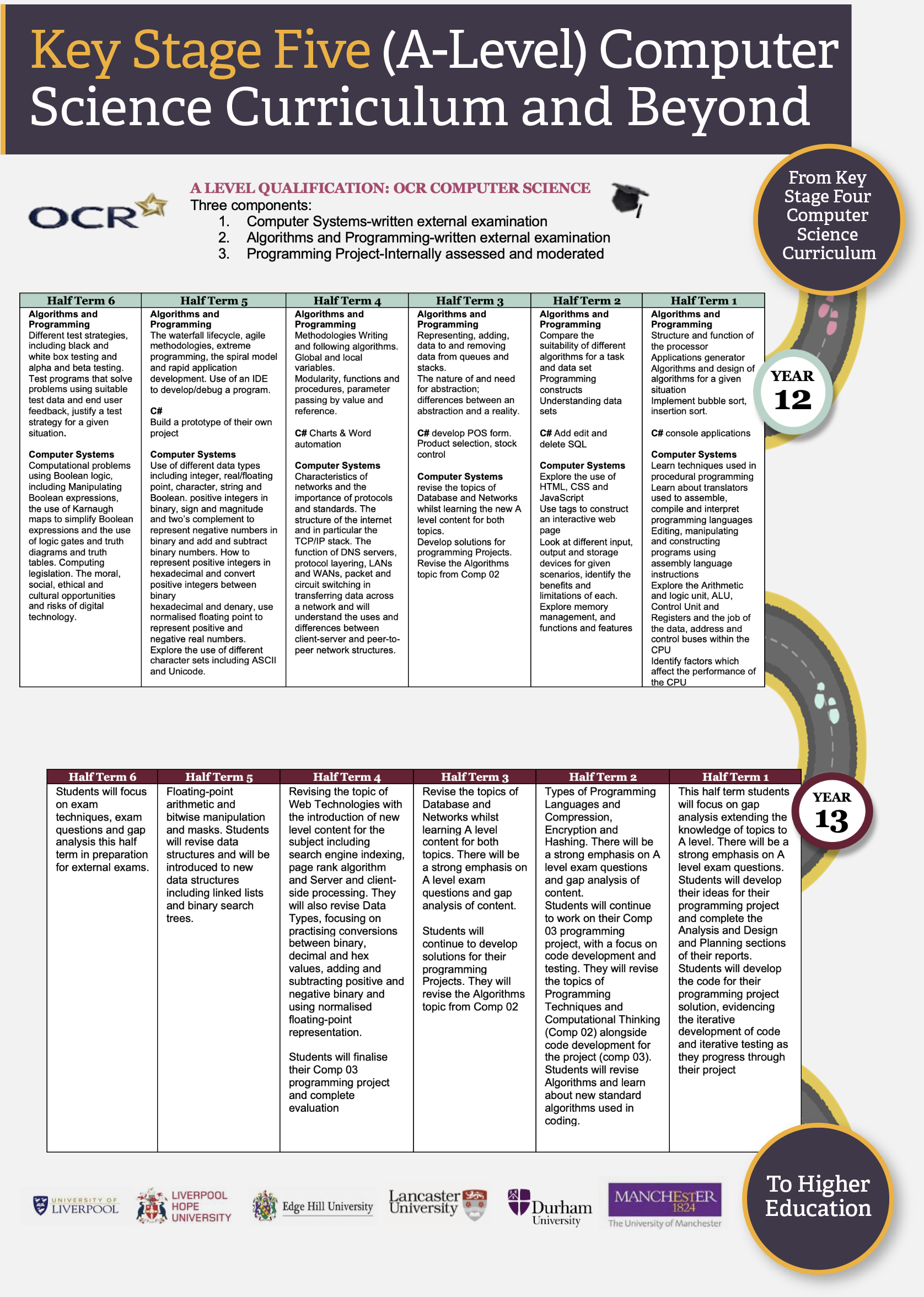 Interested in studying
Computer Science at GCSE?
GCSE Exam Specification
Interested in studying
Computer Science at A-Level?
A-Level Exam Specification
Curriculum