Curriculum Intent
At Maricourt we are passionate about the benefits, enjoyment and rewards that learning a language can bring to our pupils.
The Language acquisition curriculum aims to:
Foster pupils' curiosity and deepen their understanding of the world. We enjoy expanding students' cultural knowledge through the study of traditions and festivals around the Spanish speaking world, as well giving them an insight into other languages and cultures through taster sessions in Mandarin, Korean or French. Learning another language is a gateway to other cultures.

Instil life-long language skills. Language students develop clear, accurate verbal and written communication skills, as well as problem solving and critical thinking skills. Pupils learn to express their ideas and thoughts in another language and to understand and respond to its speakers, using different text types and registers. It provides opportunities for them to communicate for practical and authentic purposes, learn new ways of thinking and read in the original language.
Provide an inclusive language learning framework. We encourage and expect learners of all abilities to experience the rewards of learning Spanish and achieve their best by inspiring them through an engaging and carefully planned curriculum. Linguistic knowledge is taught contextually within topic areas and using the target language to model and encourage pupils to communicate in the foreign language. The sound foundation of core grammar, phonics and vocabulary taught at KS3 are building blocks for the more in-depth learning at KS4 and KS5. Developing teamwork and independent work allows our students to develop essential communication skills.

Ensure academic rigour and pathways to further language learning. The Spanish curriculum promotes linguistic and cultural content that motivates, engages, and inspires our pupils to take their learning forward to GCSE, A level and beyond. Spanish is fast becoming one of the most important languages in the world, making it relevant and necessary in many diverse sectors, from business and industry to science and politics. Spanish skills are highly valued by employers and universities today.
-Provide authentic learning experiences. Cultural trips and our long-standing work experience programs at KS5 provide our students with an authentic immersive experience of the language and culture. Cultural understanding and international mindedness allow pupils to access Hispanic culture, artists, literature, and film.
Meet the needs of a globalised world. Languages are an invaluable skill to have in an ever more globalised world. Language learners can go on to study a whole range of degree and higher apprenticeship courses from pure language courses to such diverse subjects such as Maths, Medicine or Law. Furthermore, language students are better placed to study a part of their chosen degree course at a foreign university through the many international education exchanges on offer and are equipped to study and work in other countries.
Curriculum Journey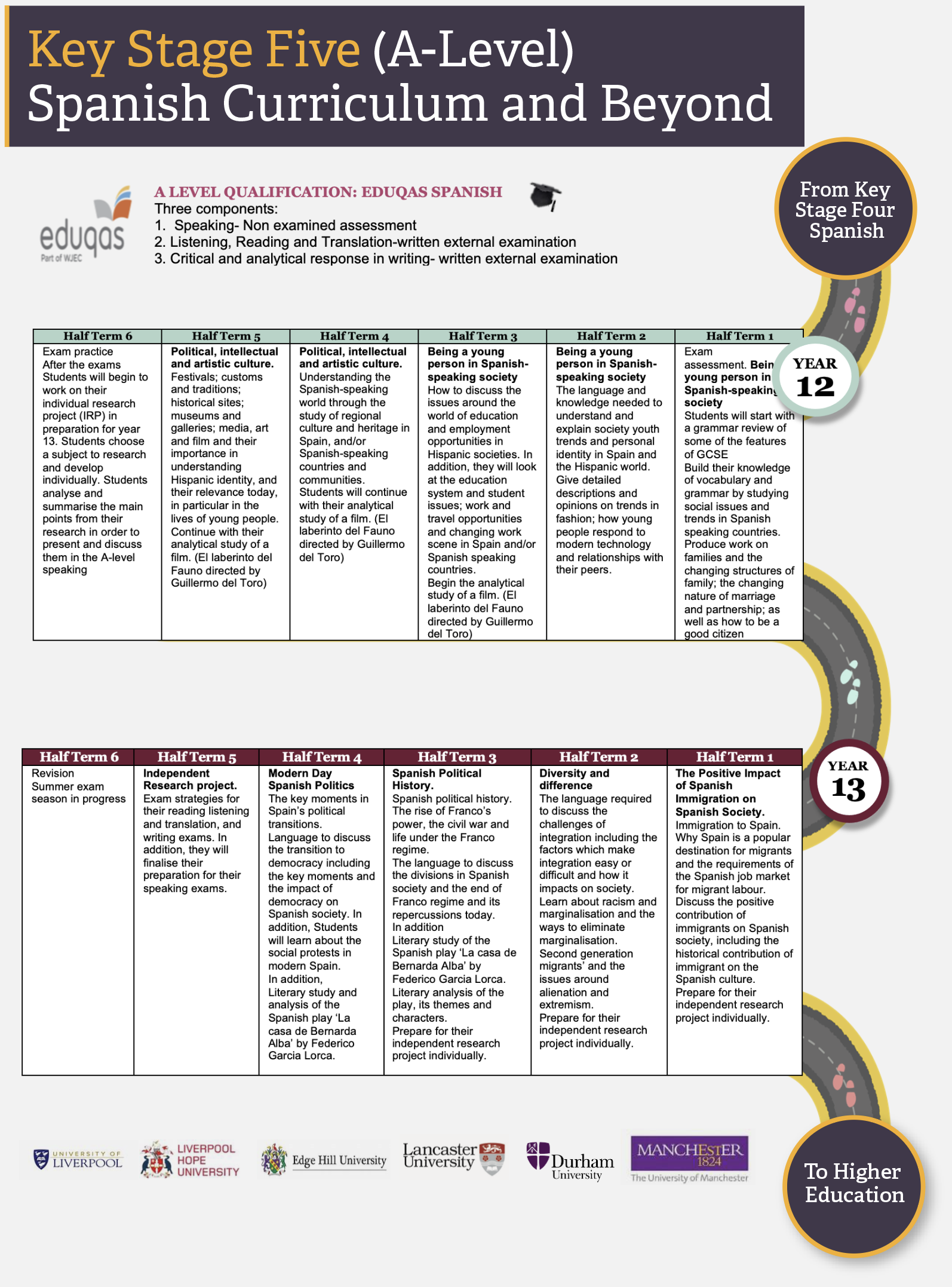 Curriculum