Wellbeing Centre
The Well-being Centre is designed to support our pupils' emotional, spiritual and mental health. The centre offers individual and group support via our Wellbeing Team. Sessions on all sorts of topics are offered such as understanding and managing anxiety, stress, low moods, bereavement, raising self-esteem, challenging negative thinking, relationships or help with learning. The different topics covered and useful tips and resources can be found in the Mental Health and Wellbeing part of the website.
The mentors and the Chaplain are often the pupil's 'person' for them to talk to and get supported by if things are not going to plan. We have two Learning Mentors – Mr Kirby and Mrs Turner and they work closely with Mr McCabe, the Chaplain. Mentoring is confidential and sometimes pupils choose to come by themselves or are highlighted by concerned staff or parents. We find the best results come from working alongside staff and parents to look after the pupil's whole wellbeing. Any safeguarding issues are raised to the Designated Safeguarding Leads and parents or carers.
If pupils are highlighted as suffering for long periods of time with low moods or worry our Mentor's currently use a CORC questionnaire recommended by CAMHS which focuses on questions to measure low mood and anxiety against an average. It is used as a basis to start identifying concerns to help suggest further support. It is not used to diagnose a mental health problem, just to observe or identify a pupil who may need further help.
It is similar to the one on the NHS site for measuring your mood which is also mentioned in the Mental Health part of the 'Keeping Children Safe in Education' document. Both links are attached below for further information or if parents would like to conduct their own measurement.
'Promoting children and young people's emotional health and wellbeing. A whole school and college approach' is found on the below link:
https://www.nhs.uk/conditions/stress-anxiety-depression/
The Well-being Centre also has a group of trained pupils who act as 'Well-being champions.' This group of pupils have learnt that mental health is something that we all have and that it is a continuum- from a sense of well- being to a diagnosable mental illness. Our Emotional Health and Well-being Champions have spent time looking at ways of challenging the stigma surrounding mental health; they have developed techniques for supporting their own wellbeing and that of their peers. So far they have been involved in different things for example, cake sales to raise money and awareness of Bullying Week and Mental Health Week. They also ran a weekly 'Time to Talk' group in a lunchtime pre- lockdown.
Alongside the Wellbeing team there are weekly, voluntary 'drop in' sessions with the school nurse, Susan Moon. For more information…
Our services School Health Team - Sefton (nwbh.nhs.uk)
The Maricourt Well-being Centre plans to build on the work done so far, to ensure that every child, family or staff member has access to support and advice when they need it. We are working towards a
"Whole school approaches that create a mental health-promoting environment and secure the commitment of the entire school workforce have been found to promote the best outcomes, to improve coping skills and to reduce risk-taking." (www.centerformentalhealth.org.uk)
See our chaplaincy page too for further support availability
Click here to download the Wellbeing Handbook
Sefton Mental Health Team have produced a Children and Young Peoples Emotional and Well-being Toolkit.
Here you will find support services by category, online, via telephone and those available in your local area.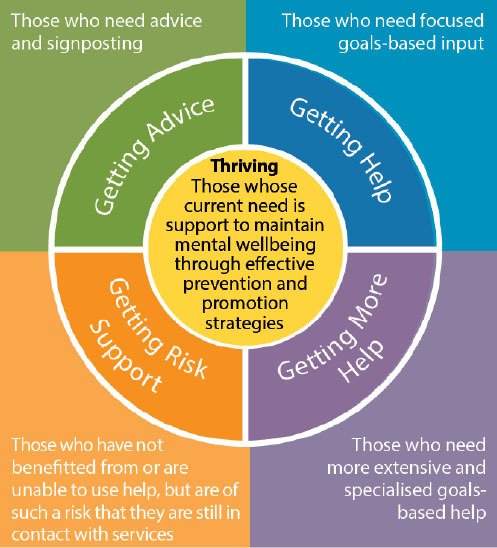 Wellbeing